Why the Outdoor Classroom?
The Outdoor Classroom responds to a pressing need to rethink past and current approaches to early care and education by providing an alternative that addresses the changed landscape and reality of childhood today.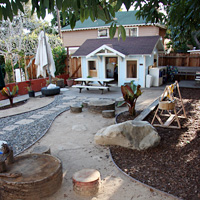 This reality, accelerating rapidly over the past 30 years, includes such challenges to children's physical and mental health, learning, and socialization as obesity, diabetes, hyperactivity, and limited skills in communication and peer relations — challenges that are interrelated and interdependent.
Making matters worse, certain recent trends in the early care and education field aggravate rather than address these challenges. One example is the replacement of active learning with the passive learning model of direct instruction for children as young as two and three. Another example is the creation of increasingly sterile play yards that are dominated by inflexible activity structures and artificial environments.
The Outdoor Classroom provides for physical activity, hands-on learning, social learning through peer interaction, and multifaceted approaches to cognitive development that maximize children's learning success. It can be utilized with nearly any curricular model and is appropriate for any population of children.