University Partnerships
Since our inception, we have had relationships with select universities that overlap with the Orfalea family's commitment to Higher Education.
---
University of California, Santa Barbara (UCSB)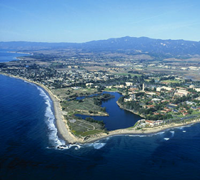 In May 2005, Paul Orfalea and the Orfalea Family Foundation helped to establish The Masters in Global and International Studies (MAGIS) at UCSB, as well as the parallel Orfalea Center for Global and International Studies.  MAGIS focuses on the academic preparation of professionals to work in the global non-profit sector, international government, and multinational business.  This two-year degree program is well suited for students who wish to engage in or study the dimensions of global civil society such as the political economy, development, law, human rights, religion, culture, and environmental protection that affect our contemporary world in significant ways.
The Orfalea Center provides parallel support to promote and advance global and international studies across the campus, and sponsors interdisciplinary conferences, seminars, and public programs.  Paul Orfalea is currently a distinguished visiting professor in the Global and International Studies Program at UCSB, where he teaches a popular course in global business. Here is a link to an article about the Orfalea family's close connection to to UCSB's Global Studies program. 
For more information, click here.
 
---
California Polytechnic State University (Cal Poly)
In 2001, Paul Orfalea and the Orfalea Family Foundation provided an endowment to further the strategic plan of Cal Poly's College of Business to become one of the nation's premier undergraduate and graduate programs.  The College was named in honor of Paul's parents, Al and Virginia Orfalea, who instilled in Paul the spirit of entrepreneurship and the strength of character to overcome challenges.  The Orfalea College of Business is one of six academic colleges at Cal Poly San Luis Obispo, and is recognized as a leading business school in the west. With robust programs designed for a constantly changing global environment, the Orfalea College prepares students for success in modern business careers at both the undergraduate and graduate levels. In 2012, Cal Poly's Orfalea College of Business was named to Bloomberg Businessweek magazine's list of the nation's top undergraduate business colleges for the fourth consecutive year.
For more information, click here.
 
---
Clinton Foundation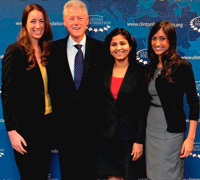 Building upon our belief in the importance of a strong global education, we provide Internships and Fellowships for students from select partner schools including UCSB and USC to work at the Clinton Foundation and Clinton Global Initiative. 
For more information, click here.