Events and Trips
Below are a few examples of events and activities REACH runs throughout the year. While the details may change, the basic idea will be the same for future events.

Sequoia National Park
We had the opportunity to backpack in Sequoia National Park, where we spent 8 days walking amongst the world's biggest trees! The group traveled on trail and at one point reached 10,000 ft elevation, where they had to navigate through fields of snow up to 6 ft deep! The group focused on dealing with challenges both in a group and in their everyday life.  Josh also made a fantastic wilderness pizza!
 
College Tours
Students visited southern California colleges and universities to get a better idea of what to expect and what they might look for in a school.  On campus, students learn what each school has to offer and what the culture of the school is like. Students also got a behind-the-scenes tour of the Aquarium of the Pacific for some examples of potential post high school paths.  Activities during these college tours help to shape students' own educational plans.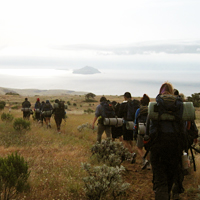 Santa Cruz Island Challenge!
We challenged our Alumni to a 15 mile day hike on Santa Cruz Island. 14 students accepted that challenge.  The group trained for three months, meeting once a month to prepare equipment and meals and train as a group. The final results were amazing. The group accomplished the hike in under 5 hours! This left us plenty of time to hang out at the beach and watch the island foxes try to steal our gear. Gabby also managed to hike the whole thing with an unopened 2 pound bag of gummy bears.
Cooking Classes
Students recently attended a class taught by School Food Initiative Chef Instructor Kirsten Criswell, where they learned how to cook a well-balanced meal, basic kitchen safety, how to watch out for hidden added sugars, and how to prepare healthy "on the run" snacks. Later, we went to Fairview Gardens to learn about fresh, local produce. After a garden tour and lesson on how to harvest different fruits and vegetables, students got to work preparing a meal for nearly 70 of their families and friends. The food was delicious and the guests were impressed with all the students had accomplished. 
Monterey Bay
On this 5 day trip, the group headed to Monterey Bay to kayak, hike, visit the world famous Monterey Bay Aquarium, and tour UC Santa Cruz and CSU Monterey Bay. Students worked hard each day to make the most out of their time in this beautiful area. In the end, the group left with a new found connection to the Monterey environment, new kayaking skills, and plenty of fun memories.