Farm to School
School Food's Farm to School component connects local farmers with school kitchens. With an abundance of agricultural products and farms of all sizes, Santa Barbara County serves as an ideal location for this effort.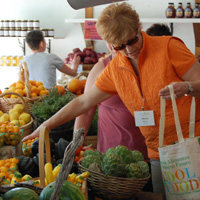 Currently, multiple school districts throughout the county are implementing Farm to School strategies for local purchasing. While no one-size- fits-all approach exists, School Food works to ensure effective and efficient implementation strategies suited to each school district and participating farmer.
Our Farm to School program, however, does not operate in a vacuum, and requires other critical elements to function properly. It is only through the holistic implementation of other programs such as our Culinary Boot Camp for school food service staff, Jr. Chef Day events and School Gardens programs for students, and Strategic Funding for equipment and infrastructure that our Farm to School program can become truly sustainable.